What is Cellulite?
Cellulite is almost exclusively a female concern. While almost every female over the age of 30 knows "what cellulite is" or what it looks like, it is important to understand what cellulite actually is and how it is caused. Cellulite is not just a problem of too much fat. There are three major reasons for this condition and all three must be addressed in the treatment to ensure optimum results.
You can maintain long-lasting results with our body coach. A long-lasting cellulite treatment is not something you can do with a medical device alone. If you are looking to get the most out of your treatment investment then healthy eating and exercise are a must. You also must do both of these correctly and that is where our Body Coach steps in.
Cellulite is an incredibly common skin condition, with approximately 80% of women being affected by it. Although keeping fit and healthy will help to reduce your chances and extent of cellulite, statistics show that the majority of women over the age of 30 are likely to be impacted by cellulite – both physically and emotionally.
If you are concerned about your cellulite, talk to the medical team at The Harley Clinic about the advanced treatment options available. Give our friendly team a call on 1300 379 581 or book your cellulite analysis online now.
THE BEST COMBINATION OF BODY TREATMENTS
Cellulite is a concern that has many facets and many causes. For this reason, we do not use just one device to reduce your cellulite, we use multiple devices depending on the severity of the cellulite and based on your body. All of the devices used have little to no downtime, meaning you can return to work or a social engagement with little to no signs of treatment.
CoolTech (fat feezing)
CoolTech body sculpting is a device that freezes unwanted fat and reduces the volume of fat. It does this by freezing and killing a percentage of the fat cells in a treatment area. For more information on CoolTech, visit our body treatments page.
Ultraformer III
Ultraformer III is one of the recent breakthrough's in non surgical skin tightening and lifting technologies and is also used in body contouring. The device activates your body's natural healing processes to stimulate the growth of collagen and elastin as well as new cells.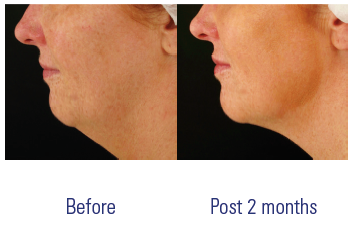 Acoustic Wave Therapy or Shockwave Therapy
Acoustic wave therapy (AWT) is one of the treatments we use to treat cellulite and to reshape the body. Specifically, AWT is very good for promoting lymphatic drainage to release and remove fat from the treatment area. It is also very good at promoting the formation of new connective tissue or septae, responsible for the dip in the cellulite dimples.
Frequently Asked Questions
When will I have results?
Depending on the combination of devices used by our medical staff you will feel immediate improvement in the treatment area with results improving over the next 2-3 months.
Will I get rid of cellulite?
While many clinics will tell you that you can remove cellulite, it is a condition that requires maintenance. With the help of the medical team at The Harley Clinic we will treat your cellulite with the latest technology available to us and help you to maintain these results as long as possible with our body coach. Maintenance treatments are recommended, on average every 6 to 18 months.
What is the next step?
The next step is for you to book a free consultation online to have your skin analysed and find out what results could be possible for you. Alternatively, give our friendly team a call on 1300 379 581 to book or ask any questions you might have.